Where a player hits in the lineup matters.  For every spot a player moves down the order (lead off to second, fifth to sixth, etc.), that player loses approximately 0.1 plate appearances per game, or about 16 plate appearances over the course of the season.
If a player moves from second to third…  not a big change in a player's value.  But if you were originally projecting a player to bat 9th and he gets bumped up to be the lead off hitter, that could increase a player's value 15-20% (8 lineup spots * 16 plate appearances = 128 additional PAs)!!!
I Stumbled Upon This Very Helpful Page at BaseBall-Reference.Com
Each team at baseball-reference.com has a batting order page that displays the starting lineup for each game.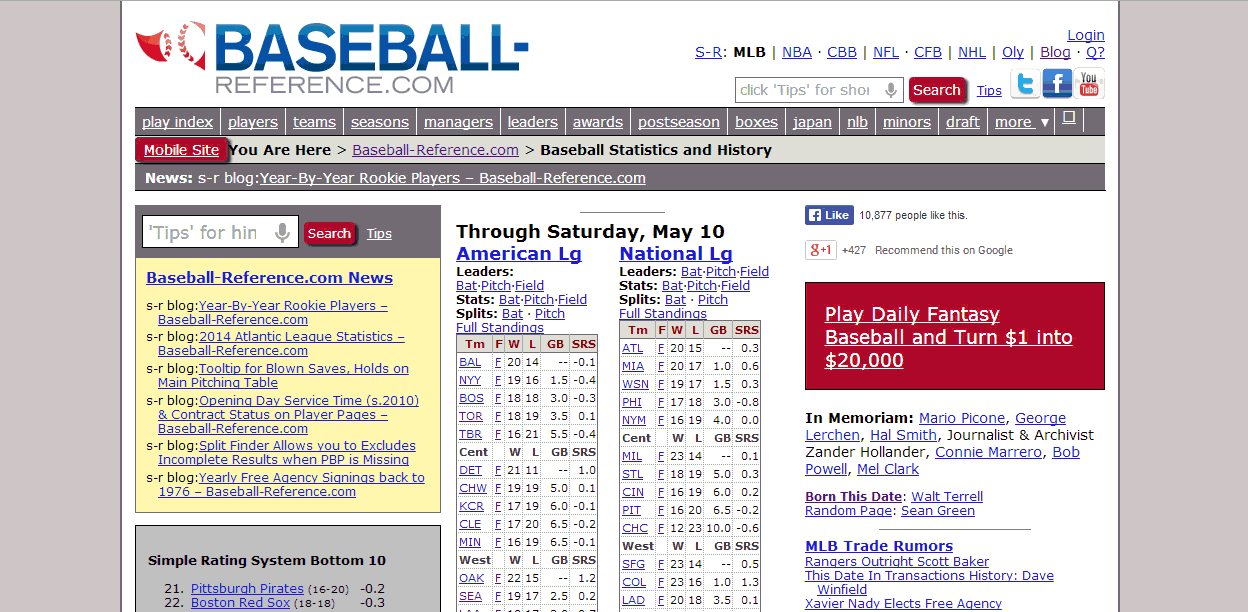 This is a great way to keep an eye on trends in a team's lineups and to monitor where your players are hitting.  I'll often try to check this and it usually takes several clicks to drill down into a player's game log, click on the last few games, scroll down to the box scores, click back a few times to check the next game, etc.
But these team pages will make it much easier to get the information.
A Lot Of Useful Information
It's not just a giant table.  There is a lot of other useful information and features to be had here:
A count of the number of times each player has batted in that spot is included at the bottom of the table.

A hash tag at the end of the game information (first column) indicates a left handed pitcher started the game.  This can allow you to get a sense for when certain players are being deployed in a platoon.

If you hover over the link of the game date, you can see the name of the opposing pitcher to get a sense for how that may have affected the lineup.
The gray or white shading of names is meant to help you see streaks of a player batting in a given spot in the lineup, but it can be difficult to see all instances for a specific player.  To see the history of a certain player more easily, select their name from the drop down right above the table to see their name highlighted in the table.  Games the player started will be shaded yellow in the first column.  Games they did NOT start will be white in the first column.
Note the URL
Here's the link to the Angels batting lineup:
 http://www.baseball-reference.com/teams/LAA/2014-batting-orders.shtml
To visit a new team page, just change the three character abbreviation to the desired team.  For example, to see Houston's lineup history, change the "LAA" to "HOU".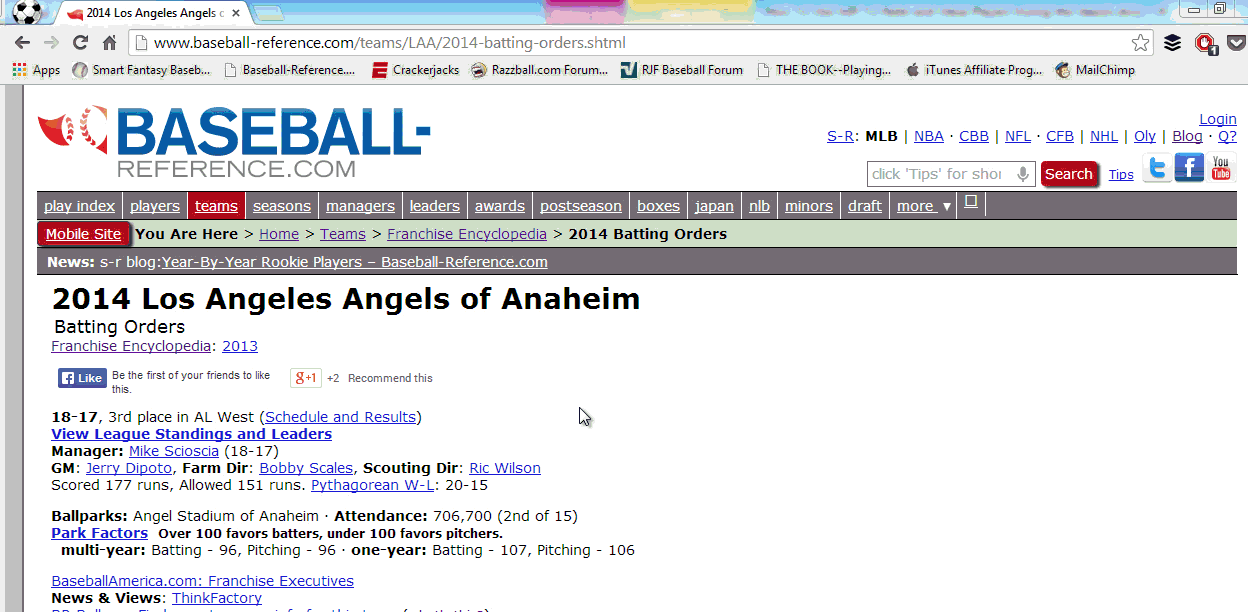 Want More Fantasy Baseball Resources?
Register as a Smart Fantasy Baseball Insider to receive a free e-book of more than 20 of the best fantasy baseball resources and the first six chapters of "Using Standings Gain Points to Rank and Value Fantasy Baseball Players" for free.