We've now calculated SGP for three rate statistics:  batting average, on-base percentage, and slugging percentage.  So let's go for the ultimate challenge and combine two ratio statistics together!
This is the most complicated calculation yet, because of the fact that we have two rate stats being combined together.  And to make matters more complicated, in this scenario, we don't know the breakdown of OPS into OBP and SLG.  Despite that, I think we can calculate the SGP factors accurately.
Let's take a look at how to perform an SGP calculation for on-base plus slugging (OPS).
A Warning About This Data
What follows is a step-by-step calculation for determining OPS SGP in an NL-only league.  I do not have standings data for a mixed-league using OPS as a category.
If you play in a mixed league, use these exact SGP factors at your own risk.  They'll give you an approximation, but the OPS standings in a mixed league will surely be different than in an NL-only league.
The good news is that if you have standings history for your own OPS league, you can follow this exact methodology to calculate the SGP factors for your league.
The Standings Data
Thanks to reader Bob who filled out the "What It Takes To Win Your League Calculator" with six years of data from this NL-only league:

The decline in OPS over this time frame was eye-catching to me.  So much so, that I think we'd be doing ourselves a disservice to include all six years of data.  And the decline happens at all spots in the standings (1st place and 10th place).  It's roughly a 40 to 60 point drop from 2008 to 2013 regardless of the position in the standings you look at.  The numbers from just 2011 to 2013 look much more consistent.
With this in mind, I decided to trim things down to only include the last three years of data.  This is worth keeping in mind for all statistical categories.  I'm sure HR are down in all formats too.  So including ten years of history in your HR calculations may not be appropriate.
Here are only the last three years: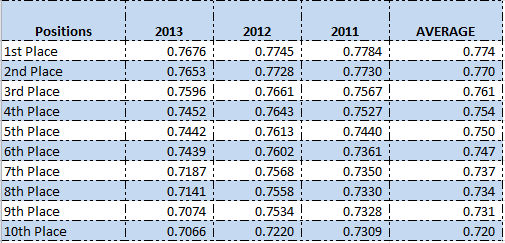 How Many OPS Percentage Points Move You Up One Spot In The Standings?
Over the last three years, an average of .774 won the category and an average of .720 finished 10th.
.774 – .720 = .054 total spread between 10 teams
We have the data for 10 teams, meaning there are 9 spots you can move up in the standings by moving from .720 to .774 in team OPS.
.054 / 9 = .006
On average, increasing your team OPS by .006 points (in this NL-only league) will result in you climbing one spot in the standings.
What Formula Do I Use To Calculate The SGP For a Given Player?
Recall from Part 5 of the "Create Your Own Rankings" series, that you determine the SGP for a ratio stat, like OPS, by removing the effect an average player has on an average team, and then inserting the statistics for the player you are ranking into the equation.
Using the table above, the average OPS for the ten teams was .748 (the average of (.774, .770, .761, .754, .750, .747, .737, .734, .731, .720).

If you need a refresher, the formula for OPS is:
On-Base Percentage + Slugging Percentage
Or
(H + BB + HBP) / (AB + BB + HBP + SF) + (1B + 2*2B + 3*3B + 4*HR)/AB
Keep in mind that some projection data doesn't specifically show the number of singles hit.  An alternative to the slugging percentage formula of (1B + 2*2B + 3*3B + 4*HR)/AB is (H + 1*2B + 2*3B + 3*HR)/AB.
The OBP portion of the formula is essentially dividing the times on-base by the number of plate appearances (let's ignore sacrifice flies).
Ideally we would have the breakdown of OPS into the OBP and SLG components.  But we don't have that here.  So I'm going to try to estimate it (Not the most scientific approach, I know.  But it's the best I can come up with under the circumstances).
In this example, we're calculating OPS for an NL-only league.  Assuming 14 hitters per team, that means 140 hitters will be drafted.
Looking at Steamer's 2014 projections, the 140 NL hitters with the most plate appearances show the following averages:

514 PA
461 AB
121 H
24 2B
2.5 3B
14.5 HR
4.4 HBP
42.2 BB

Running those figures through the formulas above, this works out to a .326 OBP and a .420 SLG, or an OPS of .746.
It is VERY important that our bases for calculating team OPS calculate to exactly .748.  If the base numbers already have the average team with an OPS of .746, that would give each player 0.333 SGP to start with ((.750-.748)/.006).
By simply bumping the number of 3B to three, instead of 2.5, the figures come out to .310 OBP and .418 SLG.  There is our .748 SLG.
Plugging in the averages above for a team with 14 hitters:
(14*(121 + 42.2+ 4.4) / (14*514) + (14*(121+24 +2*3 + 3*14.5)/(14*461)
Or
(14*167.6)/(14*514) + (14*194.5)/(14*461)
Or
2,346.4/7,196 + 2,723/6,454
The effect of an average player on that team would be:
(167.6+2,178.8) / (514+6,682) + (194.5+2,528.5)/(461+5,993)
Now remove the average player:
(H+BB+HBP+2,178.8)/(PA+6,682)+(H+2B+2*3B+3*HR+2,528.5)/(AB+5,993)
If you're using the "Create Your Own Rankings" series, you would first need to adjust your "Hitter Ranks" tab to pull in 2B, 3B, and HBP from the projection information.  Then, the specific formula that would be added to the "Hitter Ranks" tab in your rankings spreadsheet (step 6 of Part 5) would be:
=([@H]+[@BB]+[@HBP]+2178.8)/([@PA]+6682)+([@H]+[@2B]+2*[@3B]+3*[@HR]+2528.5)/([@AB]+5993)-.748)/.006
That formula is daunting.  But if you take a step back, remember all it's trying to do is calculate the team's OBP with the hitter's stats added and add that to the team's SLG with the hitter's stats added.  These two combined is the team's OPS.   From that number, we subtract .748 (the league average OPS).  After subtracting .748, the answer is then divided by .006 (the SGP factor determined earlier in this post).
Want More In-Depth Analysis Like This?
Questions?
Please post a comment if you have any questions about the process or the formulas above.
Thanks For Reading
Make smart choices.