I recently got an e-mail from a reader of the site (thanks Brad!), asking an interesting question. He was working through creating his own standings gain points rankings and tailoring them for his custom league.
How do I bring Losses into the SGP calculation? If I do make losses a negative, how would I make the pitcher and hitter SGP numbers apples-to-apples?
You might realize that he actually has the correct answer, but it didn't make sense at first because he wanted to keep hitter and pitcher SGP comparable.
Losses Are an Inverse Category
Losses, like ERA and WHIP, is a category where the goal is to have the lowest total. So the answer is to make the SGP factor a negative number.  If you think about how we calculate SGP factors, we're really trying to find the slope, or line of best fit, to our historical standings data.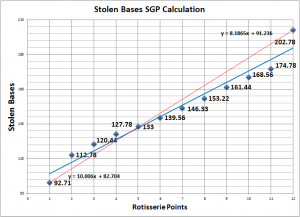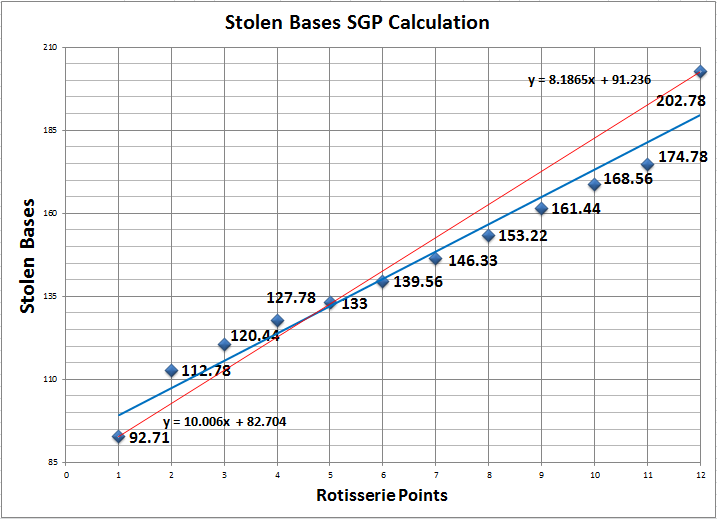 Traditional categories like Ws and Ks have a line with a positive slope (slanting up and to the right on your high school math class x- and y-axis).  The higher the number of Ws on the x-axis, the more points you get in the standings on the y-axis.
The slope of a graph plotting out Losses would be downward sloping.  The more Ls on the x-axis, the lower the standings points reflected on the y-axis.
So Brad had the right answer, but he was afraid that adding in another inverse pitching category was going to destroy his ability to compare hitter and pitcher SGPs.
The Real Reason We're Here
I realize you didn't come here for me to take you back to basic math class.  The real question is, can you take a pitcher who is projected for 4 SGP and say he's a better draft selection than a hitter projected for 3.8 SGP? (more…)