I'm a little biased, but I think the Player ID Map is an invaluable tool.
But if I'm being honest… it has a really big weakness. When I make changes to it, there's not a great way for me to get that updated information to you.
Until now!
The Easy-to-Update Player ID Map
After discovering that you can create a live connection from a Google Sheet to an Excel file, I have moved the Player ID Map into a Google Sheet.
The advantage of doing this is that you can link to this Google Sheet in your own spreadsheets. And if you download the Excel version, it will already have a pre-established link to the Google Sheet version.
How to Update the Player ID Map
Once you've downloaded the new version, you can simply right-click anywhere in the player listing and choose the option to "Refresh" the connection. Any changes will automatically pull into your file.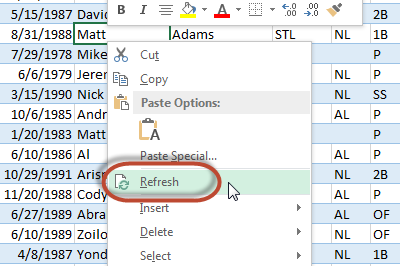 The "Change Log" tab of the Player ID Map will work the same way. Right-click and refresh the connection on that page to get an updated listing of the changes that have been made.

In the past you would have to come back to the site, download a new copy of the Excel file, and then paste it into your existing spreadsheets. Now you'll just need to right click (or keep reading to see how you can have it update automatically) and update it!
The Links
The Player ID Map and Change Log are available in a variety of formats, depending on the goal you're trying to accomplish.
What If I Currently Have the Old Player ID Map in my File?
It's great that the newly downloaded Player ID Map comes with the connection. But what about those who have the old version? Here's a short set of instructions of how to establish this connection.