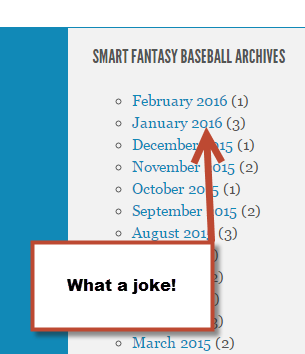 If you just happened to stumble upon this site (hopefully a Google search for fantasy baseball spreadsheet brought you here), you're probably thinking to yourself, "How can I trust a fantasy baseball website that has only published one article since January 2016?".
And that's a fair question.
Instead of going it alone, as I've done the last three years (has it really been that long already???), I'm now writing at the Rotographs section of Fangraphs. For the near future, you should be able to find a new article there, from me, every Friday morning. You can see an archive of what I've already written here.
Is SFBB Shutting Down?
No! While it will be difficult for me to continue posting here at the same pace, the site isn't going anywhere. I do hope to add more spreadsheet tips and analysis here, and you will also be able to find that in my writing at Rotographs.
I've already snuck in a couple of Excel pieces over there and haven't gotten fired yet!
SmartFantasyBaseball will also be my home for the tools, spreadsheets, and guides that I create. The Player ID map and any serious "how to" lengthy series (like my standings gain points and points league series) will be here.
One major benefit of the Rotographs shift is that I will be publishing something EVERY WEEK! I used to aim for only twice a month.
My Work So Far at Rotographs
Here's a short summary of the pieces I've already published over there:
Stay Smart
Best of luck this season. Be sure to follow me on Twitter so we can keep in touch and so you can be kept up-to-date on new tools and articles.