One of the main goals of this site is to provide you with access to usable statistics and other data. In order to do that, many posts will include embedded Microsoft Excel files. These files are hosted in the cloud using Microsoft's SkyDrive service.
You're welcome to view any of the spreadsheets (if you can make sense of them outside the context of a post) using this link.
Alternatively, you will have several options to view, download, or interact with the spreadsheets within a given post.
Each embedded Excel file will have the Excel Web App footer shown below. Clicking on the Excel icon will allow you to download the file to your computer for you to manipulate (you'll likely need Microsoft Excel 2007 or greater installed for the file to open). Clicking the rightmost icon will open the Excel file in the Excel Web App. You don't need Excel installed to use this, but please note that many features of Excel are not available in the Web App.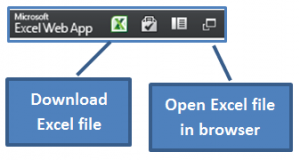 Additionally, if you see downward pointing triangles in a spreadsheet, you can sort that data by any column or apply a filter if you'd like to search for specific data (like a certain player or players with statistics over a certain criteria).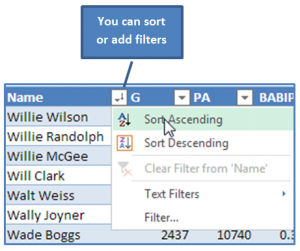 It's my hope that having access to the data and being able to interact with it will help make you a smarter fantasy baseball player. Leave a comment below or use the contact page if you have any ideas on how to make data more accessible or how to allow more interaction with statistics on the site.
Thanks for reading, and make smart choices.