If you're not familiar with the name Ron Shandler, he's been a legendary figure in the game of fantasy baseball.  He was one of the first writers to begin applying sabermetric-type thinking to fantasy baseball, he created the LIMA plan, founded BaseballHQ.com, and started the Tout Wars expert league.
And He's At It Again
Shandler is experimenting with a new monthly league format.  One of the big selling points of the format is the ability to draft (or select) a new team each month.  Giancarlo Stanton, Curtis Granderson, Troy Tulowitzki, or Matt Kemp ruining your season?  The monthly format alleviates those concerns.  Multiple "draft days" during the season?  Sign me up.  Find a happy medium between the luck of weekly head-to-head formats and the marathon of a 162-game rotisserie format?  Perfect.
The Rules
Because of the All-Star break the contest will span five weeks.  Rotisserie scoring.  Players are selected based on a salary cap system in which salaries are assigned based upon production during the season to this point.
30-team league

30-man rosters made of 23 active players and 7 reserves.

Traditional rotisserie rosters – 2 C, 1B, 3B, Corner IF, 2B, SS, Middle IF, 5 OF, UT, 9 pitchers

7 reserves can be any position

Salary cap is $300 for all 30 players
Players can be owned by multiple teams
4×4 rotisserie scoring with the offensive categories of HR, SB, OBP, Runs Produced (R+RBI-HR, subtracting out HR removes "double counting" of RBI and R that occur on a home run) and pitching categories of W, Sv+Hld, K, ERA
No free agent pickups
Intra-roster moves (reserve-to-active and active-to-reserve) can be made twice weekly
The Player List
If you're interested, the list of player salaries can be viewed here.
Thinking Through The Strategy
Because of the 30-team format, punting any category seems out of the question.  Stress needs to be put on forming a balanced team.  Being unable to pick up free agents means your team has to be constructed to absorb injuries that may arise during the month.
The ability to make moves twice a week looks like an opportunity to implement a pitching strategy.  You can't gain much of an advantage in games played offensively, but it seems like carrying additional pitchers would allow for squeezing out a few extra starts over the month.  Alternatively, if one were to carry extra relievers with Save and Hold opportunities, you could implement a strategy of going after the Sv+Hld category while still being competitive in K and ERA.
After reviewing the rules, my strategy was to focus on building an offense with positional flexibility (to minimize the hitters necessary on my roster) and then use a volume strategy for accumulating pitching stats (more pitchers = more K and more Wins or Sv+Hld).
Finding The Value
In looking through the list of players, a number of "values" jumped out.  Players that have been injured or severely underperformed to this point in the season have extremely low values (Aaron Hill, Hanley Ramirez, etc.).
Realizing this, I needed a way to ensure I could identify all of the valuable players.  Simply combing through the list of 500+ hitters and 500+ pitchers isn't reasonable.  I would surely miss someone valuable.
Building a Projection Tool
I used many of the principles and tactics outlined in the "Create Your Own Rankings" series.  Not only does Fangraphs provide great projection resources in the preseason, but they also provide updated projections for the remainder of the season (these update daily).  These "Rest of Season" projections will be invaluable in estimating the value of players for the next month.
Download the player list

Download the Fangraphs "Steamer RoS" projections
Use the SFBB Player ID Map Excel file to connect the dollar values to the projections (to avoid having to type in the dollar values for 1,000 players)
Use the projections to calculate a value for each player
Compare the projected value to the listed price for each player to find the best "bargains"
The Results
I created two teams.  One to try the starting pitcher "volume" strategy mentioned earlier and one to focus more on a Sv+Hld variation.  Here are the two teams: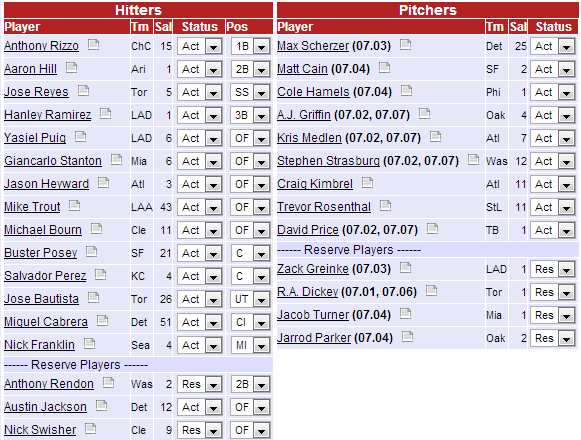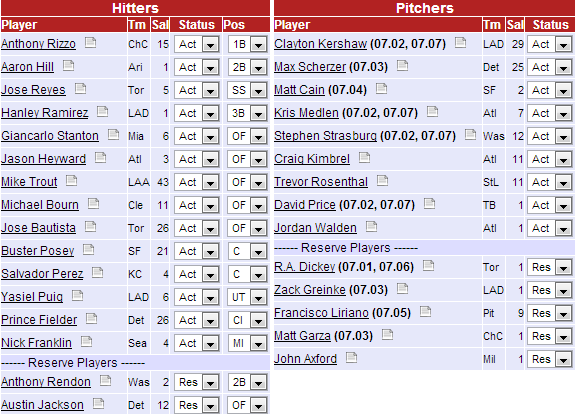 Commentary
You can see there is plenty of value to be had.  I've put a heavy focus on underperforming and injured players.  But look at the names.  There is a lot of potential here.  I should be able to handle one injury to any position except catcher (Rendon can slide to 2B or 3B, Hanley Ramirez can be positioned at 3B or SS).  And I feel like Posey and Sal Perez are sturdy options at catcher.  I strongly considered carrying a third catcher, but in the end decided the extra pitcher would allow a greater chance at winning the league.
Nick Swisher may be the death of me this season.  I have owned him on several teams this year and he's been awful.  But he continues to bat in the heart of the powerful Cleveland lineup.  I needed someone that can play 1B in case of an injury.  So I'm hitching myself to the wagon one more time.
Hopefully Cain, Price, Dickey, Greinke, and Hamels can turn this around (many of them have, but their season-long stats still display the effects of early-season struggles).  I chose to pay for the strikeout potential and locked-in roles of Kimbrel and Rosenthal.  Walden appears to have taken hold of a setup role in ATL (for $1) and Axford has done the same in MIL (remarkably solid over the last month).
Conclusion
I understand it's taboo to talk about your own fantasy teams.  But for the sake of transparency and being open about the strategies and methodologies I use, I wanted to put myself out there.  
And I couldn't help myself with Puig.  For $6?  How could I not?!?!
Thanks for your readership.  Stay smart.