In this video I'll show you how to add a Trade Evaluator into your existing rankings spreadsheet.
Here's an animated image demonstrating the finished product.  This spreadsheet will pull in all the Rest of Season projections for a player, their total SGP to be earned the rest of the season, and the player's dollar value (provided you've added dollar value calculations to your sheets).

I'll also show you a practical example and explain a few important things to think about when considering trade offers.
The video is roughly 30 minutes long, but keep in mind that just about everything you create by following the guides on this site are long-term in nature.  With a little bit of maintenance, all of these tools can be used all season long AND into future seasons.
The Step-By-Step Process
I start with a spreadsheet that has already been updated with RoS Projections.  I then show you how to add a tab just to evaluate trades and other roster decisions.  We'll add drop down menus that pull each player's statistics, dollar value, and SGPs.
This information will enable you to add clarity to all your roster moves.  No more using your gut to analyze a 2-for-3 player trade involving hitters and pitchers.  You'll be able to see exactly which side of the offer is better.
If you're new to the site, I would suggest getting familiar with How To Create Your Rankings Using Standings Gain Points.
A Quick Suggestion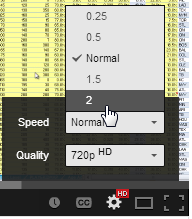 If you're looking for a way speed things up by watching them 1.5 or 2 (double)  speed, cutting down the time it takes to watch significantly.  Just adjust the settings at the bottom of the video player.  Click the cog and change the "Speed to 1.5 or 2.
I also recommend watching the videos in HD.  A lot of the detail in Excel can only be seen well in 720p or higher.
And a Disclaimer
I created this video using Prince Fielder, Jose Abreu, Billy Hamilton, and Ian Kinsler in an example trade.  News that Fielder is facing season-ending surgery came out the next day!  I apologize for this glaring problem with the example, but hope you can still see the power of using a tool like this to evaluate trades and free agency acquisitions.
Here's The Video
Thanks for Watching
Stay smart.
Questions?  Comments?  Future Video Ideas?
Let me know in the comments below.