Granted, Edward Mujica is probably owned in all leagues at this point, as he is now up to four clean saves.  But as recently as today, April 24th, a CBS update comes out saying Mujica "may not be a long-term solution".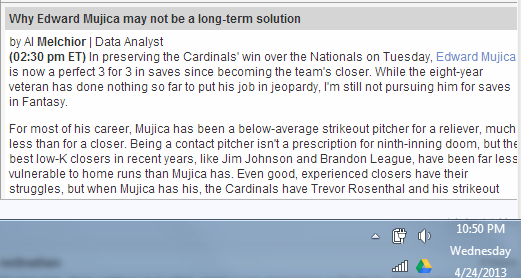 Everything the update says is true.  But here are the reasons why I have invested in Mujica and why I think you should target him:
He's getting saves right now.  A bird in the hand is worth two in the bush.

For his career, he has nearly a 5-1 strikeout-to-walk ratio.  

Since joining the Cardinals* in 2012, he's pitched 34.1 innings.  He has 29 strikeouts and four walks (over 7-1 strikeout-to-walk ratio).

In those 34.1 innings, he has surrendered 2 home runs.
*I realize this is an arbitrary point in time, and selecting arbitrary points in time can lead to misleading statistics.  But, it makes sense to do if there was a fundamental change in Edward Mujica after joining the Cardinals…  He's not the same pitcher with the career 1.22 HR/9 ratio that detractors continue to bring up.  He has continually increased the use of his splitter the last few years.  And this great post at VivaElBirdos.com explains much more about Mujica's increased usage of the pitch after coming to St. Louis.  Courtesy of BrooksBaseball.net's pitch data, here's Mujica's 2012 frequency by pitch type (notice the 45% splitters in the "Freq" column):
And here's the data so far for 2013 (notice he's only using three pitches now and using the splitter 59% of the time):
We're still early in the season, but that's a different pitch composition than in the past.
There's a lot of buzz about Trevor Rosenthal and his "stuff".  His average fastball is 98mph.  He can hit 100 on the gun.  But between AA and AAA in 2012, he struck out 104 batters in 109 IP.  With all the talk about his dominating stuff, I would have figured he'd be over one strikeout per inning.
I think the Cardinals have an incentive to keep Rosenthal in a middle relief role.  He can pitch multiple innings, if necessary.  He can still be converted into a starter, if necessary.  And with Jaime Garcia being at an elevated risk of injury (Garcia elects for rest and rehab instead), an additional starter may be needed.
This is a bit of a long shot, but could be part of the equation.  Mujica is a free agent at the end of the 2013 season.  If he somehow walks away after earning 40 saves, he could be able to earn a nice contract.Under the new compensatory draft pick rules, if the Cardinals offer a contract of 1-year and $13.3 million (the 2012 threshold, amount will increase for 2013), and Mujica rejects the offer in order to become a free agent, the Cardinals get an extra draft pick.  And while it would be hard to imagine Mujica earning a contract worth more than $13.3 million in a single year, it wouldn't be out of the realm of possibility to be offered a 3-year $20 million deal (Chris Perez makes $7.3MM, Jim Johnson $6.5MM, Brandon League signed a 3-year $22.5MM deal, Heath Bell a 3-year $27MM, Jeremy Affeldt has a 3-year $18MM deal).
Who are you buying or selling in the St. Louis bullpen?
Thanks for reading.  Stay smart.