It's hard to believe that after a 162-game season involving rosters of 25 or more players, that a fantasy baseball championship could be decided by several counting stats (a few stolen bases, runs, etc.), but it's true.  The final standings of any league can absolutely be affected by a simple strategy like making sure your daily lineup is full of players that are starting that day.

Look at the "Total GP" column in the final batting statistics shown below.  While they tied for first, one team managed to squeeze out 46 more games played over the course of the season (2,155 – 2,109).  That's an easy 2% of statistical output left on the table for "The Naturals" (46 / 2,109 = 2.2%).

It's probably not safe to do a straight extrapolation of the numbers, but a 2% increase in the final stat totals amounts to about 23 more R, 6 more HR, 21 more  RBI, and 3 more SB.  We can't even see the full standings above, but that's at least 1.5 more rotisserie points "The Naturals" left on the table.
And All I Had To Do Was Set My Lineup
"The Naturals" was my team.  I mustered a tie on the last day of the season.  But could have earned exclusive bragging rights by simply setting an accurate lineup every day.  I wish I had found BaseballPress.com's "My Lineup" tool sooner.
What Is the "My Lineup" Tool?
The guys at Baseball Press have created a free utility through which you can easily enter the players on your fantasy teams, save that list of players, and then check the "My Lineup" site to see which of your players is in/out of the lineup that day (look at the warnings for Norichika Aoki and Billy Butler bel0w).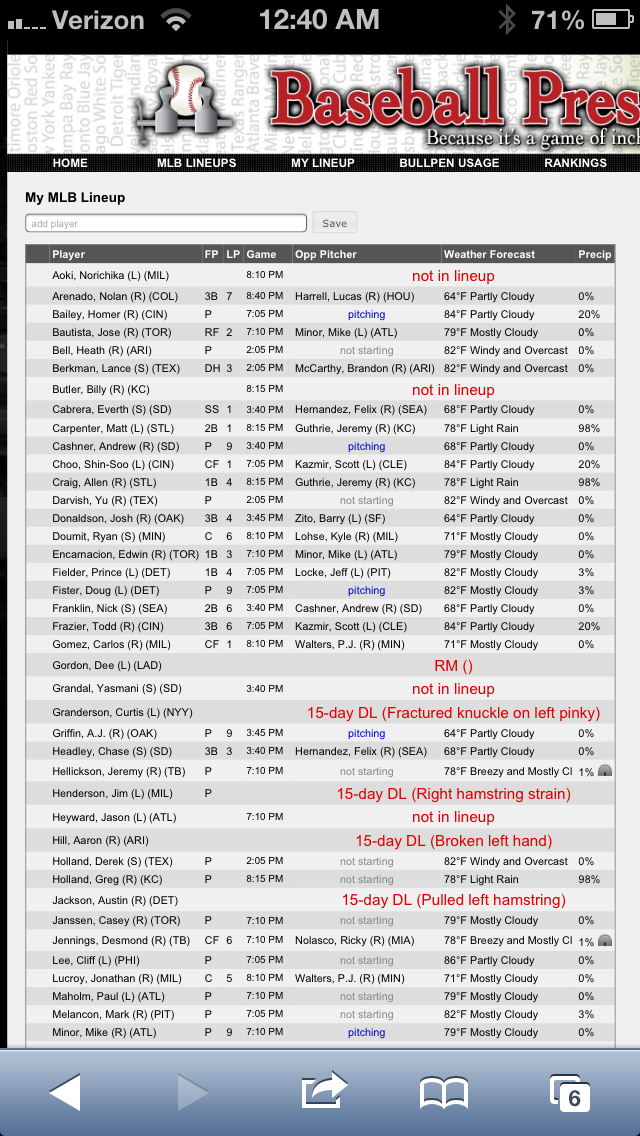 I'm Not Impressed Yet.  What Else Does It Do?
In addition to acting as a central location where you can view the status of all your teams' players, you're also provided with where each player will hit in the batting order (the "LP" column), the opposing pitcher (and if they're a RHP or LHP), and weather information.
As we have looked into before, where a player hits in the batting order is a significant component in a player's level of production, so it's great to see this information prominently displayed on the page (you don't have to dig through 10 box scores to monitor where your players are hitting).
Weather information can help you avoid potential rain outs (see Allen Craig and Matt Carpenter facing a 98% chance of rain).  Great information in weekly H2H leagues or daily draft formats.
I'm Busy, I Don't Have Time For Another Site To Visit
To be honest, that was my initial fear.  But Baseball Press prides themselves at being the first to publish accurate starting lineups.  I had no idea, but most times lineups are available several hours before the game.  I envisioned that I would have to diligently check "My Lineup" every night at 6:30PM to find it useful, but that's just not that case.  It seems like lineups are often available up to four hours before game time and already entered in at BaseballPress.com.
The site is also easily accessible from any mobile device (the screenshot above is from my iPhone).  The facts that lineups are available hours before game time and available on my phone make it very easy to use.
How Much Is This Going To Set Me Back?
It's free.  All you have to do is to create an account at Baseballpress.com and then add the players you want to monitor.
Is It Difficult To Set Up?
I found it very easy to create my account and add players.  I registered and had the players from four fantasy team rosters entered in about 10 minutes.
Up Next
In Part II of this look at BaseballPress.com's "My Lineup" tool, we'll go through step-by-step instructions to create your account and add players to your lineup, as well as a few tips on how to make the most of the site.
Special Thanks
Thanks to Reggie (follow Reggie on Twitter) and Nate (follow Nate on Twitter) of BaseballPress.com (follow the website's own Twitter account), who have built this tool and agreed to let me spotlight it here.
Be smart.