Welcome to the first part in a series of posts in which I'll go through the process of plugging Steamer's Rest of Season (RoS) projections into your existing ranking/dollar value spreadsheet so you can make informed and objective roster decisions during the season.
A few notes about the series:
Let's Get Started
If you're a frequent reader of this site, hopefully you spent the offseason toiling over a spreadsheet making projections, developing rankings, and calculating dollar values.
That dynamite spreadsheet you created has probably been sitting on the shelf for the last month accumulating dust.  But did you know you can still use it to make informed in-season roster decisions?
I'll show you how in a second.
Avoid This Scenario
Once the season starts, we immediately become retrospective in our decision making. You navigate out to the free agent listing and you see the stats players have accumulated to date.  Some utility infielder with a .240 career average is sitting there staring at you with 5 HR and a .386 batting average to start the season.
This is bad.  We don't draft based on last season's stats, so why should we make current roster decisions about last week's stats?
As we do during the draft, we should be making roster decisions based on projected or future performances.
Some sites do offer full season projections.  They are helpful, but they become less meaningful as the season progresses.  Full season projections are likely not being updated, and we don't care about the stats that someone has already earned.
What we really want are rest of season projections.  Or what a player is going to do from here on out.
How To Obtain Rest Of Season (RoS) Projections
You might recall that I use the Steamer projections that are freely available for download at Fangraphs.  Not only have Steamer projections proven to be one of the more accurate projection systems, there is also an easily downloadable RoS version!
To locate the Rest of Season download, hover over the "Projections" link on the Fangraphs menu bar and look for "Steamer (RoS)".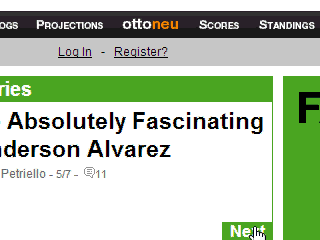 An "Updated" projection is also available, but this is not of much value to fantasy players.  It essentially accounts for what has already happened and adds in the projected future results.
Just like the preseason download, the RoS file is downloadable in a CSV format that can be dropped into your existing rankings spreadsheet after performing a few simple steps.
I Try To Design My Spreadsheets So They Can Be Updated Easily
As you worked through the rankings and dollar value creation steps I've written about, you might have noticed there are a lot of tabs and that the spreadsheet seems to have a lot going on.  I purposely designed it so the projections are isolated from the rest of the spreadsheet.  This allows for updates to more easily be copied from elsewhere (like a RoS download or an updated preseason projection) and pasted into your file without messing up the surrounding formulas and calculations.
How RoS Projections Can Be used
In Larry Schecter's book, "Winning Fantasy Baseball", one of the key principles he preaches is being able to make objective decisions about players.  He does this at the draft and during the season using calculated dollar values.  He outlines a process in which he manually updates projections for specific players if he is considering a trade or a free agency pickup.  But fortunately, we have Steamer's regularly updated projections available to us for free.
Having updated projections will allow you to make more objective assessments of trades and free agency acquisitions.  No more evaluating trades by feel, hoping a fantasy expert responds to your tweet, or looking at cryptic Yahoo player rankings.  You will have clear guidance.  For example, assume you're offered a trade of a recently injured Bryce Harper for Ben Zobrist.  Do you make the deal?
It's difficult to say.  You could look up preseason dollar values.  But of course, Harper comes out on top.  How long will Harper be injured?  How does that affect his value?  How do you account for the fact that Zobrist qualifies at shortstop?
If you are able to project Harper and Zobrist's statistics for the rest of the year, the decision becomes easier.  And a formula based spreadsheet also allows you to add your own adjustments.  Maybe you think you can pick up a replacement player while Harper is on the DL that will earn you some stats.  Your spreadsheet can inform you exactly how much those replacement stats are worth.
You Give
You Get
Bryce Harper
$13.59
Ben Zobrist
$14.94
Replacement Player
  $2.30
Even though Harper and the effect of the replacement player have the advantage, perhaps the acquisition of Zobrist allows you to drop your awful shortstop and pick up an interesting OF from the waiver wire.   If you widen your frame and include the effect of the additional players, perhaps Zobrist earns the edge.
Or you're wondering how to evaluate a 3-for-3 player deal?  Or a 1-for-3 deal?  Having current dollar values for all players involved and the free agents you could acquire in the 1-for-3 deal, will help bring clarity to these decisions.
Dollar Values Provide The Ultimate Clarity
You can directly compare a hitter's total standings gain points to another hitter's standings gain points to determine the better player.  But because of the 70-30 hitter-to-pitcher allocation, you can't directly compare hitters to pitchers.  If the hitter player pool totals 361 standings gain points, the pitcher player pool totals 206 standings gain points, and you prefer a 65-35 hitter-to-pitcher allocation, how much is a hitter who will earn 4.2 SGPs worth?
I've written a detailed step-by-step guide that walks you through the process of converting standings gain points into dollar values.  The guide, "Using Standings Gain Points to Rank and Value Fantasy Baseball Players", also calculates the effect of inflation in keeper leagues and even provides updated prices during the draft that incorporate the effect of in-draft inflation.  This guide is available for $9.99.  Click here to read more about it.
Once you have completed the process of calculating dollar values, your spreadsheet can easily be updated by following the steps in this manual in exactly the same fashion as if you had not added the dollar value calculations.  This manual walks you through the process of changing the inputs in the SGP and/or dollar value calculations, the projections.  All calculations based upon the projections will update automatically based upon the new underlying projections.
Step-By-Step Instructions
The main point of Part 1 is to explore the concept of RoS projections and how they can be used.  There's not a lot of work to perform yet.  We'll just use your preseason rankings file as a starting point for the parts to come.
| Step | Description |
| --- | --- |
| 1. | Locate and open the rankings file you created during the preseason.  From the "File" menu, choose the option to "Save As".Unless you're already very familiar with Microsoft Excel, I highly recommend you work through the "Create Your Own Rankings" series first.  But if you're feeling adventurous and want to dive right in, you can use this file as a starting point. |
| 2. | When prompted, give the file a new name toreflect the fact that this is for the upcoming season.  You may want to put the year in the titlein order toindicate exactly what this file is for. |
| 3. | Then hit Save. |
| 4. | That's it?  Yep. |
Questions?
Do you have questions about Part 1?  Or want to see what others have asked? Comment below.