Short and sweet update here… Columns for "FanDuelName", "FanDuelID", and "DraftKingsName" have been added to the Player ID Map (click to download the Excel file).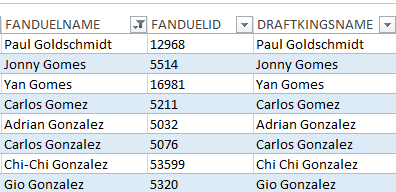 New to the site? Here are some past articles about how to use the Player ID Map in developing your spreadsheets (they focus on the season-long game, but the principles of using Player IDs or the map to account for differences in player names across sites still apply).
Please keep in mind that the Player ID Map is not intended to be all encompassing. I aim to keep all "fantasy relevant" players on the list. On choice days when a bench player or swing-man starting pitcher get the call, one might argue they become "fantasy relevant" to the daily game, but such players may not be included in the listing. I have to draw the line somewhere!
Thanks for following the site and stay smart.